---

In this overview of why we should accept that God is not the source of morality, Raymond D. Bradley first outlines four kinds of crimes that God willingly admits to causing, committing, condoning, or commanding, if the holy scriptures are to be believed: crimes against humanity, war crimes, licensing moral mayhem and murder, and crimes of torture. Since any one of these would contravene morality, a being responsible for them could hardly be said to be a source of morality. There is an explicit contradiction between God's moral perfection and his scriptural crimes since, as Bradley says, "a morally perfect being would not do anything that is morally wrong." So which core belief are traditional theists willing to give up to avoid this contradiction?
In this greatly expanded version of his contribution to The Antipodean Philosopher, Raymond D. Bradley uses H. L. Mencken's classic "Memorial Service" as a jumping off point to explain why he is an atheist, and not an "agnostic," about the existence of any members of the category "gods." Since which gods happen to predominate in the society into which one was born depends upon accidents of birth, how can anyone justifiably have confidence that any of the gods on Mencken's list actually exist? Turning to our own Western monotheistic tradition, Bradley goes on critique the intellectual and moral defense that believers have mounted for the biblical God of Judaism, Christianity, and Islam, with particular emphasis on "intelligent design" and "fine-tuning" arguments and how the pastorate feign ignorance about what their own biblical scholarship has uncovered about the all-too-human origins of their "revealed" sacred texts.
Where did evil in the world come from? In this article Edouard Tahmizian considers God's causal influence on the origin of evil. He aims to show that, if biblical hard determinism is true, God would be the efficient cause of Adam and Eve's transgression—the original sin that the rest of humanity inherited when the first humans, Adam and Eve, purportedly ate fruit from the tree of knowledge of good and evil according to the Book of Genesis. Moreover, he argues, even if biblical hard determinism is not true and all events could have turned out differently, God would still be the final cause of Adam and Eve's sin, making him at least somewhat causally responsible for the sin of Adam and Eve that we all purportedly inherited. In the end, Tahmizian's analysis implies that God is ultimately the source of all evil.
The ontological argument for the existence of God has a long and well-discussed history. First clearly articulated by St. Anselm in 1078, it almost immediately generated lively debate, debate that continues to the present day. Attacks on the argument have been launched by Gaunilo, St. Thomas Aquinas, David Hume, Immanuel Kant, and others, and those attacks have forced supporters of the argument (including, but not limited to, Alvin Plantinga, William Alston, and David Bentley Hart) to present different formulations of it. This has sharpened the lines of demarcation between the two sides and made the issues involved clearer. In this article, James R. Henderson addresses an aspect of the debate that has been largely neglected—exactly what it means to "exist in the mind" in Anselm's sense. Henderson ultimately concludes that the coherence of the concept of God needs to be established before the ontological argument can be given any weight.
As skeptics see it, recent theistic arguments are pretty much old hat. Their basic modus operandi has always been the same: represent some aspect of the universe as requiring an explanation that no naturalistic hypothesis can provide, and then propose God as the only possible or most satisfactory solution. Skeptics retort that either no explanation is required, naturalistic accounts suffice, or God provides no uniquely satisfactory explanation. The details may change, but the pattern remains the same. The theistic pattern is exemplified in the work of Dallas Willard, particularly his three-stage argument for the existence of God. Willard argues that God is needed because the natural universe is not enough. In this response, Keith Parsons provides the standard retort: naturalism suffices to answer all legitimate questions, and the appeal to God is either useless or obscurantist.
One of the theistic maneuvers used to explain and justify the hiddenness of God is the so-called "Feigned-allegiance Reply" (FAR). Although some arguments against FAR have been published in the literature, Plugaru here presents what he believes is a new and valid attack on FAR (NAFAR).
In this paper Horia Plugaru argues that theism is necessarily false because attributes usually ascribed to God, such as the property of being morally perfect, are incompatible with God's alleged creation of sentient beings. Using the resources of contemporary debates on the ethics of procreation, Plugaru develops this new logical argument against theism on the foundation of David Benatar's axiological asymmetry, which, on top of elegantly explaining four commonly held judgments, entails that sentient beings are always harmed by coming into existence. Since God is said to be responsible for bringing sentient beings into existence, even though he had no need to do so, he cannot be morally perfect; and if moral perfection is taken to be a defining attribute of God, then God cannot exist. After formally presenting the argument, Plugaru defends its crucial premises against possible objections in order to show just how much force the argument has against them.
The received view of Hume scholars is that Part I of David Hume's essay "Of Miracles" proffers an argument that it is never rational to accept a miracle claim on the basis on testimonial evidence. But even among those advocating the received view, there's debate about exactly what argument is being offered in Part I. More significantly, the received view of Part I is notoriously hard to reconcile with the four evidential arguments offered in Part II of the essay. For if no testimony would ever be sufficient to establish that a miracle has occurred under any circumstances, why bother to evaluate whether the testimony that we actually have is good enough to rationally accept that any miracles have in fact occurred? In this essay Keith Parsons reconciles Parts I and II of Hume's long-debated "Of Miracles" by interpreting Part I to be allowing the possibility that one could rationally affirm the occurrence of a miracle on the basis of testimony in an ideal case. Part II then simply aims to show that no actual miracle claims even come close to approximating the ideal case. That is, in Part I Hume the philosopher lays out exactly how heavy a burden of proof the miracle claimant must meet when miracle claims are directed toward the well-prepared skeptic. Then in Part II Hume the historian cites the historical evidence that has been offered for miracle claims to show how unlikely it is that any actual miracle claim can meet such a burden. These two parts combine to show that, while it is in principle possible to substantiate a miracle claim with human testimony, the actual circumstances of such claims disclose a vast gap between what is verifiable in principle and what is confirmable in practice.
Orthodox rabbi Moshe Averick's Nonsense of a High Order: The Confused World of Modern Atheism is in many ways typical of that niche of recent popular books that attack modern "atheism." The errors that plague Averick's own thinking are often found in other authors of similar works. For example, Averick repeatedly makes assertions without providing any arguments to back them up, fails to engage relevant research on the issues that he touches on, and misrepresents the views of his opponents. He also spills a great deal of ink critiquing idiosyncratic views of his opponents as if they were typical of nontheists as a whole, uncharitably attaches false meanings to his opponents' statements, and takes their words out of context. He both mischaracterizes how science is done and twists cherry-picked scientific findings to create the appearance that they support his own religiously informed positions. Projecting his own unwillingness "to consider anything that presents a challenge to his dearly held belief system" on to his opponents, Averick steadfastly advocates the existence of spirits and their frequent interaction with our world, that human minds involve a spiritual component, and that the Supreme Spirit sustaining the physical world has handed down rules for us to follow, dismissing naturalistic accounts of mind, meaning, and morality for the flimsiest of reasons.
In this essay Horia George Plugaru rebuts the skeptical theism response to the evidential argument from evil by employing an intuitive moral principle called the principle of theodical individualism. Although skeptical theists deny the existence of pointless evil, theodical individualism signals its existence. The only recourse left to skeptical theists is to fall into moral paralysis or make serious concessions to proponents of the evidential argument from evil.
In an earlier critique of Orthodox rabbi Moshe Averick's Nonsense of a High Order: The Confused World of Modern Atheism, Michael D. Reynolds pointed out that Averick's book is typical of recent popular works attacking "atheism" in leaning on various informal logical fallacies. In this follow-up critique Reynolds focuses specifically on what Averick has to say about the "failure" of naturalistic accounts of the origin of life, which comprise forty-eight percent of the text of Nonsense of a High Order. Reynolds finds that Averick is ignorant of the nature of science and its principles, that he either does not know, or else fails to understand, the standard scientific explanations of the topics that he addresses, that this ignorance or incomprehension causes him to invent odd notions that completely misrepresent the standard scientific view, that he arbitrarily rejects standard scientific explanations without providing any substantial argument against them, and that he repeatedly asserts that something is true without offering any argument for its truth, among other things.
A family of theistic arguments contends that the human ability to reason is to be expected under theism, but is surprising under metaphysical naturalism, and thus provides evidence favoring theism over naturalism. One common line of argument is that unguided evolution favors traits that aid in survival and reproduction, rather than traits conducive to discovering the truth. Thus, evolutionary naturalism provides us with no reason to expect our cognitive faculties to be reliable, whereas theism does provide us with reason to believe that God would have created human beings with cognitive faculties aimed at discovering the truth. Several naturalists have responded with arguments that there is in fact significant survival and reproductive value in having accurate cognitive faculties, but in this paper Aron Lucas takes a different tact. Namely, Lucas argues that even if the general fact that human beings can reason favors theism over naturalism, nevertheless the more specific fact that human reasoning suffers from a variety of cognitive biases favors naturalism over theism. If this is right, then arguments from reason can only be deemed successful by understating the full extent of our knowledge concerning human reasoning, thereby committing what Paul Draper has called the fallacy of understated evidence. After fully outlining the available data concerning human reasoning, Lucas concludes that the existence of human cognitive biases does not merely neutralize the evidential significance of the human ability to reason, but in fact overpowers it, tipping the scales in favor of naturalism (all else held equal).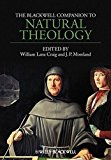 The massive Blackwell Companion to Natural Theology aims to be the standard reference work supplying the best reasons to believe that God exists from the foremost experts on various arguments for the existence of God. It is not recommended for readers without some background knowledge of the philosophy of religion, modal logic, and Bayesian confirmation theory. Nevertheless, it cannot be ignored by anyone who wishes to argue that belief in God is irrational or intellectually bankrupt. In this review, Aron Lucas focuses on its chapters on the kalam cosmological argument, the fine-tuning argument, the moral argument, and the argument from miracles. Despite some valuable novel contributions, the volume focuses too heavily on defending some premises while ignoring others, and is highly technical even for advanced readers, with one argument presented in 87 steps purely using symbolic logic. One can only wonder why God would make the evidence for his existence accessible only to a select handful of professional academics, let alone punish people with eternal torment because they failed to properly apply Bayesian reasoning to little known historical data. The very fact that the volume needs to dig so deep in order to make its case is, in a way, evidence against the existence of God.
William Lane Craig's kalam cosmological argument maintains that the universe had a beginning. One of his arguments for this premise aims to show that a beginningless universe is metaphysically impossible, either because an actual infinite cannot exist because it would result in counterintuitive absurdities, or because time consists of a temporal series of events formed by successive addition, and that it's not possible for any such series to be an actual infinite. In the first of two previous papers, Arnold T. Guminski presents his solution to the problem of counterintuitive absurdities, which he believes results from applying Cantorian theory to the real world. However, his alternative version of the application of Cantorian theory to the real world attempts to achieve by a priori methods what can only be accomplished a posteriori, raises the question of whether a set theory can be fully developed that is consistent with it, and addresses "counterintuitive absurdities" that are not absurdities at all. In his second paper, Guminski correctly argues that it's possible for time to have no beginning by showing that the totality of all time need not be formed by successive addition, but this argument succeeds independently of his alternative version of the application of Cantorian theory to the real world, rendering it unnecessary.
The traditional authors of the canonical Gospels—Matthew the tax collector, Mark the attendant of Peter, Luke the attendant of Paul, and John the son of Zebedee—are not held to be the Gospels' actual authors by the majority of mainstream New Testament scholars. Christian apologists nevertheless produce a lot of material advocating the view that the Gospels are the eyewitness testimonies of either Jesus' disciples or their attendants. Much of the general public is unfamiliar with the mainstream scholarly view that the Gospels are anonymous works, written in a different language than that of Jesus, in distant lands, after a substantial gap of time, by unknown persons compiling, redacting, and inventing various traditions in order to provide a faith narrative of Christianity's central figure, Jesus Christ. While Matthew Wade Ferguson has previously discussed why scholars do not consider the Gospels to be historical documents, in this essay he explores a number of internal and external reasons why scholars doubt the traditional authorial attributions of the Gospels.
In Hume's Abject Failure, philosopher John Earman argues that David Hume's famous maxim that no testimony is sufficient to establish that a miracle has occurred unless its falsehood would be more miraculous than the miracle itself is just a trivial tautology, namely that we should not believe a miracle claim unless the evidence makes it more probable than not. But even if this interpretation is correct, contemporary Christian apologists fail to satisfy Hume's purportedly obvious condition that it must be more probable that a miracle occurred than that it did not occur when they argue that the miraculous resurrection of Jesus probably occurred.
In a popular article about general arguments from evil against the existence of an all-powerful, all-knowing, and perfectly good God, William Lane Craig raises objections to such arguments that are consistent with those he earlier raised against Paul Draper's evidential pain-and-pleasure argument from evil in an oral debate with Draper in 1998. In this article Jeffrey Jay Lowder considers whether Craig's points have any force in rebutting Draper's writings on his pain-and-pleasure argument, ultimately concluding that they leave Draper's argument unscathed.
In this paper Arnold T. Guminski examines the modal ontological argument based upon possible worlds semantics expounded by Alvin Plantinga and further developed and defended by William Lane Craig. In section A Guminski discloses the flawed underlying assumptions of this Plantinga modal ontological argument (PMOA). In section B he defends the "anti – Plantinga modal ontological argument – argument" (or anti-PMOA-argument) by showing that a maximally great being is not broadly logically possible. In section C Guminski shows that the anti-PMOA-argument is amply confirmed since the procedure used to construct the PMOA plausibly allows the construction of arguments relevantly similar to the PMOA, but inconsistent with it. Section D explains why that which is broadly logically possible/necessary ought to be distinguished from that which is metaphysically possible/necessary. Section E considers the plausibility of premise 1 of the PMOA according to the writings of other scholars.
Unlike historical writing, the New Testament Gospels read like ancient prose novelistic literature. Outside of Luke, the Gospel authors say nothing about any textual sources for Jesus that they consulted, and even Luke does not name, explain, or discuss the relevance of any historical sources. In fact, Luke only mimics historical prose for a few brief lines before merely venerating Jesus in the stories that he relates. None of the Gospel authors explain how they came to learn of the alleged events that they relate (though John claims an unnamed eyewitness disciple of Jesus that he probably invented). Instead, the Gospels narrate "events" from an all-knowing perspective that places them within a literary genre unlike that of actual historical works from antiquity. In this essay Matthew Wade Ferguson discusses ten important ways in which the Gospels fall short of the research, independent corroboration, methodology, and critical investigation typical of the historical writing of their time.
A little reflection will show that many religious beliefs and practices have absurd implications. In this paper Ryan Stringer provides several examples of such absurdities and defends them against potential objections. Some of the moral absurdities considered include: the belief that an innocent person like Jesus could pay for the sins of wrongdoers; that God could be simultaneously tyrannical and loving; that a morally perfect God could create a maximally miserable place like Hell; that God wants to form loving relationships with us while simultaneously hiding from us; and that a loving heavenly father also wants us to genuinely fear him. In addition, it is absurd to believe that an all-knowing and all-powerful God needs people to do his work for him instead of doing it himself; that, despite knowing what is best for us, God nevertheless alter his plans in response to prayer; that a maximally good God would create a maximally evil being like Satan knowing Satan's evil nature ahead of time; or that there could be a genuine struggle between good and evil even though God has predetermined everything to happen exactly as he intends. Stringer wraps up his discussion with an appendix on the absurdities generated by a divine command metaethics that maintains that there is nothing morally wrong with anything that God might do so long as God approves of his own actions, for God's approval (and his approval alone) automatically renders any action morally right.
An often overlooked religious criticism of biological evolution focuses on the alleged ethical consequences of accepting it, particularly increased immorality and harmfulness. In this essay Michael D. Reynolds describes and critiques one such criticism, that provided by biblical literalist John MacArthur and his historical forebears documented in Charles Sprading's Science Versus Dogma and Maynard Shipley's The War on Modern Science. MacArthur makes seven chief assertions about the ethical consequences of accepting evolution: (1) that naturalism and its acceptance of evolution removes the foundation of morality and causes immorality; (2) that accepting evolution prevents belief in spiritual things; (3) that acceptance of evolution entails that humans are no better than animals; (4) that conceding evolution robs human life of meaning or purpose; (5) that naturalism and its acceptance of evolution leads to nihilism; and that evolutionary concepts laid the groundwork for (6) Communist and (7) Nazi ideology. Reynolds concludes that MacArthur's assertions exemplify the rejection of rational, evidential thinking in favor of unquestioning credulity.
If the values of the physical constants of our universe were even slightly different, life could not exist. Some have argued that the fact that life does exist thus provides strong evidence that God fine-tuned these values to allow life to emerge. According to the fine-tuning argument, the existence of a life-permitting universe is very improbable on naturalism, but not so on theism. However, we have no way of determining the probability or improbability of actualizing a life-permitting universe on naturalism, for we can only compare our universe against the infinitesimally small subset of other possible universes that have the same physical laws—not the infinite set of all other possible universes.
The key premise of the fine-tuning argument for the existence of God is the alleged improbability of the physical constants taking on values that fall within the narrow life-friendly range. In this paper Aron Lucas examines whether this improbability alone is enough to ground a successful theistic argument from design. He concludes that the fine-tuning proponent is impaled on the horns of a trilemma: he can either reject the argument for having a false premise, reject it for being circular, or accept it at the cost of rejecting the moral argument for the existence of God.
If any of a number of the universe's physical constants had been even slightly different, then life as we know it could not exist. According to the fine-tuning argument, the extreme improbability of the actual constants having, by chance, their uniquely life-permitting values suggests that they were "fine-tuned" by God to allow life to exist. But there are at least two fatal problems with the fine-tuning argument. First, if the fine-tuning argument's premises hold, then its conclusion does not, since a parallel "divine-pruning" argument yields the opposite conclusion using the exact same line of reasoning. Second, the fine-tuning argument wrongly assumes that the extreme improbability of a unique outcome's occurrence by chance in this lottery-like context implies that that outcome did not occur by chance. Both problems show that the fine-tuning argument does not justify theism or even supernaturalism more generally.
Is God needed for life to be meaningful? Is it even conceivable that the meaning of life could be found in God? Would the existence of God, one way or the other, have any implications for the meaning of life at all? And what exactly do we mean by the meaning of life, anyway? Ryan Stringer touches on these and related questions in order to elucidate the relationship between the existence of God and the meaning of life.
Theology professor Alister McGrath's Christian Theology: An Introduction is a clear and comprehensive theology textbook that is balanced, at least, when presenting conflicting Christian opinions. This review by Michael Reynolds from the perspective of a nonbeliever is not intended to be comprehensive, but focuses on McGrath's treatment of issues found to be incomplete or misleading, or otherwise his omissions of discussion (or even mention) of large and important topics within Christianity. Some of these topics include the pernicious effects of Christian theology on social progress (such as equal rights for men and women), the conflict between science and religion, Christianity's history of suppression of thought by imprisonment, torture, and murder, religious wars, and rationalization of the conquest of non-Christian cultures. In short, McGrath neglects a large swath of issues close to the heart of Christianity in a way that suggests that Christian theology is taught in order to promote a set of fictions.
In "Religion and the Queerness of Morality," philosopher George Mavrodes contends that morality provides good grounds for adopting religious belief because in a world where religion fails, morality is odd or absurd. Since morality is not in fact odd or absurd in the actual world, Mavrodes argues, we do not live in a world where religion fails. In this paper Ryan Stringer examines the claim that in a world where religion fails, morality is odd or absurd, and finds it to be unsubstantiated. Moreover, Mavrodes provides no grounds for thinking that morality is not in fact odd or absurd in the actual world, and it is plausible to think that it actually is.
In this paper Horia Plugaru argues that if the traditional theistic God were to exist, then there are strong reasons to think that there would exist only deities. If the argument succeeds, then God would have no rational grounds for creating our present world, which contains nondeities. But since the present world clearly exists, it follows that God does not exist. After offering a formal presentation of the argument, Plugaru defends its crucial first premise before responding to five potential objections to the argument.
Many people hold on to supernatural beliefs because they feel that certain psychological needs could not be met without them—in particular, they feel that they would not be able to have any hope without such beliefs. However, nonbelief need not be the "recipe for despair" that it is often assumed to be; in fact, not only can it leave ample room for hope, but it can help people hope in a realistic, psychologically healthy way when it comes to important things in life. Because nonbelievers can hope for most of the things that people generally hope for, dispelling the myth that nonbelief is a recipe for despair can go a long way toward making nonbelief psychologically acceptable to those who might otherwise resist it.
In this paper Ryan Stringer makes the case for a logical inconsistency between the existence of evil or suffering and the existence of an eternal, omniscient, omnipotent, completely free, perfectly rational, and maximally good God. In essence, Stringer argues that because God is maximally good, the reality existing before the creation of the natural world, consisting as it does only of God and perhaps morally neutral necessary things or necessarily coexisting things, will be maximally good. Furthermore, as a maximally good being, God would never introduce any evil or anything that could produce evil into existence, for that would only serve to make reality worse. But there is in fact evil in the world; therefore God does not exist. Stringer considers several objections to the argument, but finds that none of them succeed.
---