Welcome!

The Secular Web is owned and operated by Internet Infidels Inc., a 501(c)(3) nonprofit educational organization dedicated to promoting and defending a naturalistic worldview on the Internet.

As defined by Paul Draper, naturalism is "the hypothesis that the natural world is a closed system, which means that nothing that is not a part of the natural world affects it." Thus, "naturalism implies that there are no supernatural entities"—including God.
Gather around the Kiosk for thought-provoking articles, informal essays, reviews, humor, satire, fiction, opinions, and fascinating memes.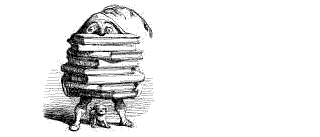 Browse the Secular Web Library, the worlds largest online collection of literature on the philosophy of religion, religions skepticism, and atheism where you will find defenses of the naturalistic worldview and critiques of religion.

Explore the Secular Web...
Library
Kiosk
Quotation of the Minute
"Not only does the application to horrors of such generic and global reasons for Divine permission of evils fail to solve the second problem of evil; it makes it worse by adding generic prima facie reasons to doubt whether human life would be a great good to individual human beings in possible worlds where such Divine motives were operative. For, taken in isolation and made to bear the weight of the whole explanation, such reasons-why draw a picture of Divine indifference or even hostility to the human plight. Would the fact that God permitted horrors because they were constitutive means to His end of global perfection, or that He tolerated them because He could obtain that global end anyway, make the participant's life more tolerable, more worth living for him/her? Given radical human vulnerability to horrendous evils, the ease with which humans participate in them, whether as victim or perpetrator, would not the thought that God visits horrors on anyone who caused them, simply because s/he deserves it, provide one more reason to expect human life to be a nightmare?" Marilyn McCord Adams, "Horrendous Evils and the Goodness of God"
http://www.faithquest.com/philosophers/adams/horevil.html
NEW IN THE
KIOSK


Thank God for
the Atheist
H. J.
van der Meer
FEATURED
BOOK

Doubting Jesus'
Resurrection
Kris D. Komarnitsky
NEW IN THE
LIBRARY


C. S. Lewis'
Basic Mistakes
David Kyle
Johnson