Welcome!

The Secular Web is owned and operated by Internet Infidels Inc., a 501(c)(3) nonprofit educational organization dedicated to promoting and defending a naturalistic worldview on the Internet.

As defined by Paul Draper, naturalism is "the hypothesis that the natural world is a closed system, which means that nothing that is not a part of the natural world affects it." Thus, "naturalism implies that there are no supernatural entities"—including God.
Gather around the Kiosk for thought-provoking articles, informal essays, reviews, humor, satire, fiction, opinions, and fascinating memes.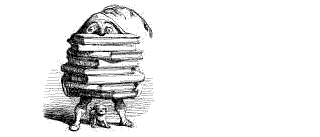 Browse the Secular Web Library, the worlds largest online collection of literature on the philosophy of religion, religions skepticism, and atheism where you will find defenses of the naturalistic worldview and critiques of religion.

Explore the Secular Web...
Library
Kiosk
Quotation of the Minute
"When I reached intellectual maturity and began to ask myself whether I was an atheist, a theist, or a pantheist; a materialist or an idealist; a Christian or a freethinker; I found that the more I learned and reflected, the less ready was the answer; until, at lat, I came to the conclusion that I had neither art nor part with any of these denominations, except the last. The one thing in which most of these good people were agreed was the one thing in which I differed from them.
They were quite sure thay had attained a certain 'gnosis,' -- had, more or less successfully, solved the problem of existence; while I was quite sure I had not, and had a pretty strong conviction that the problem was insoluble
. And, with Hume and Kant on my side, I could not think myself presumptuous in holding fast by that opinion." Thomas Henry Huxley, "Agnosticism"
Agnosticism and Christianity and Other Essays
(1889, Buffalo, NY: Prometheus, 1992), p. 162.
NEW IN THE
KIOSK

Banished
from Eden
Papa Bill
FEATURED
BOOK

50 Voices of
Disbelief: Why
We're Atheists
Russell Blackford
NEW IN THE
LIBRARY

Religion and Violence
Michael Moore