Welcome!

The Secular Web is owned and operated by Internet Infidels Inc., a 501(c)(3) nonprofit educational organization dedicated to promoting and defending a naturalistic worldview on the Internet.

As defined by Paul Draper, naturalism is "the hypothesis that the natural world is a closed system, which means that nothing that is not a part of the natural world affects it." Thus, "naturalism implies that there are no supernatural entities"—including God.
Gather around the Kiosk for thought-provoking articles, informal essays, reviews, humor, satire, fiction, opinions, and fascinating memes.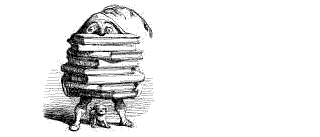 Browse the Secular Web Library, the worlds largest online collection of literature on the philosophy of religion, religions skepticism, and atheism where you will find defenses of the naturalistic worldview and critiques of religion.

Explore the Secular Web...
Library
Kiosk
Quotation of the Minute
"The next time believers tell you that 'separation of church and state' does not appear in our founding document, tell them to stop using the word 'trinity.' The word 'trinity' appears nowhere in the bible. Neither does Rapture, or Second Coming, or Original Sin. If they are still unfazed (or unphrased), by this, then add Omniscience, Omnipresence, Supernatural, Transcendence, Afterlife, Deity, Divinity, Theology, Monotheism, Missionary, Immaculate Conception, Christmas, Christianity, Evangelical, Fundamentalist, Methodist, Catholic, Pope, Cardinal, Catechism, Purgatory, Penance, Transubstantiation, Excommunication, Dogma, Chastity, Unpardonable Sin, Infallibility, Inerrancy, Incarnation, Epiphany, Sermon, Eucharist, the Lord's Prayer, Good Friday, Doubting Thomas, Advent, Sunday School, Dead Sea, Golden Rule, Moral, Morality, Ethics, Patriotism, Education, Atheism, Apostasy, Conservative (Liberal
is
in), Capital Punishment, Monogamy, Abortion, Pornography, Homosexual, Lesbian, Fairness, Logic, Republic, Democracy, Capitalism, Funeral, Decalogue, or Bible." Dan Barker,
Losing Faith in Faith: From Preacher to Atheist
(Madison, WI: FFRF, 1992), p. 109.
NEW IN THE
KIOSK

Humble
Abrahamic
Origins
Robert Shaw
FEATURED
BOOK

The Fallacy of
Fine-Tuning
Victor J. Stenger
NEW IN THE
LIBRARY


Filthy Lucre:
The Church
& Wealth
Michael Moore