---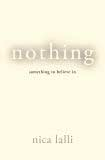 Amazon
Book Description
"It's like this–all my friends are something. Vanessa is a Unitarian, Michelle is Catholic, Lucy is Presbyterian … so I just want to know–what am I?"
"We're nothing." My father was looking right at me; he had a pleasant, friendly kind of an expression. "Nothing," he said again.
"That's right," said my mother. She seemed relieved that Dad had just said it. "Nothing at all … We like being nothing."
What is it like to grow up in a house with no religion? What kind of experiences does someone have when one is not a believer and yet comes into constant contact with religion? How can a person find out what they are when they focus primarily on what they are not? These are the questions raised in the memoir Nothing.
In this intimate, funny, and sincere memoir, Lalli chronicles her experiences while confronting the broader issues of faith, tolerance, and respect in the confusing religious landscape of America. With touching humor, Lalli reflects on her childhood memories full of mishaps and misadventures as she tries to fit into communities populated with religions and true believers: bargains she makes with God to test his existence, "Jesus Freaks" intent on evangelizing at every opportunity, and teenage skiers more interested in Bible-thumping than hitting the slopes. In her adult life, her difficulties with religion continue as her family's spiritual ambivalence conflicts with a new, Christian in-law. In the end, Lalli finds the courage to define what she is rather than what she's not. By delving into these universal themes through the lens of family relationships and the culture of "God Bless America," Lalli finds that nothing is a philosophy to be embraced rather than feared.
Nothing is an appealing, sensitively written story that offers hope, humor, and reason to millions of similar Americans who feel alienated in an ever more religiously polarized nation.
Table of Contents
part 1

1 god punished me

2 nothing

3 jesus freaks at the door

4 don't tell (about the jesus freaks at the door)

5 i believe in mary worth

6 the dead bird

7 bargains with god

8 star wars summer

9 bible ski trip

10 real-life death

11 father daniel

12 agnosticism in italy
part 2

13 my sister is a christian

14 living in sin

15 joined in jesus

16 tarot cards and taco pie

17 a civil ceremony

18 the conversation

19 open casket

20 doubting god

21 leap of faith

22 bad jew

23 take it back

24 god bless america

25 mommy, what do we believe in?
Praise
"An engaging personal account of nonbelief … This memoir is well-written and often acerbically funny, an edgy quest for meaning outside the boundaries of organized religion."- Publishers Weekly
"In this appealing memoir, an art educator in New York City chronicles her journey of acceptance as she came of age in a family that refused to embrace organized religious belief…. Whatever readers' beliefs, they will find this search for acceptance enlightening." – Library Journal
"In this absorbingly simple memoir, Nica Lalli is witty and engaging–but most important, she's so darn normal. You can't shake the feeling that you know her, that you watched her grow up, grappling hilariously and poignantly with one issue after another." – Dale McGowan, author of Parenting Beyond Belief and Calling Bernadette's Bluff
"This deceptively simple story, straightforwardly told, is the one to read if you want to know what it's like to be an atheist or agnostic in a society that takes its theism for granted as some great good. Theists in America should all read Nothing." – Ed Buckner, Southern Director for the Council for Secular Humanism