---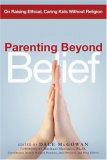 Amazon
Book Description
Parenting Beyond Belief is a book for loving and thoughtful parents who wish to raise their children without religion. There are scores of books available for religious parents. Now there's one for the rest of us.
It's hard enough to live a secular life in a religious world. And bringing up children without religious influence can be even more daunting. Despite the difficulties, a large and growing number of parents are choosing to raise their kids without religion.
In Parenting Beyond Belief, Dale McGowan celebrates the freedom that comes with raising kids without formal indoctrination and advises parents on the most effective way to raise freethinking children. With advice from educators, doctors, psychologists, and philosophers as well as wisdom from everyday parents, the book offers tips and insights on a variety of topics, from "mixed marriages" to coping with death and loss, and from morality and ethics to dealing with holidays. Sensitive and timely, Parenting Beyond Belief features reflections from such freethinkers as Mark Twain, Richard Dawkins, Julia Sweeney, Penn Jillette, Dr. Jean Mercer, Dr. Donald B. Ardell, Rev. Dr. Kendyl Gibbons, Rev. Dr. Roberta Nelson, and over twenty-five other doctors, educators, psychologists, and secular parents that will empower every parent to raise caring and independent children without constraints.
Topics covered include: Living with Religion, Holidays and Celebrations, Being and Doing Good, Meaning and Purpose, Dealing with Death, Questioning, the Wonder of Science, and Seeking Community.