---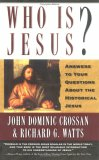 Amazon
This fascinating book makes the results of a lifetime of scholarship readily available to nonspecialists who want to meet the historical Jesus. Eminent biblical scholar John Dominic Crossan collaborates with pastor Richard G. Watts to rediscover the life, the work, and the message of the Man from Galilee.
The authors explain the person and teachings of Jesus with remarkable clarity, relying on the actual historical record as much as possible. Their intention is to aid readers in a fuller and more accurate understanding of what kind of man Jesus was, what kind of world he lived in, and the legacy of his teachings to humankind.
Responding to questions from all over the world, Crossan addresses the critical issues that have surrounded Jesus for centuries: his miracles, his baptism, his resurrection, and more. Crossan and Watts help us understand the life and death of Jesus in a way that goes far beyond the Gospels and the legend.