---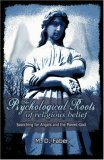 Amazon
Book Description
"Angels are indeed messengers, with extraordinary things to tell us, but they do not come from the supernatural realm, from God, from …"
In this insightful new study, M.D. Faber, whose previous work on the psychology of religion has won widespread critical acclaim, offers a comprehensive, naturalistic explanation of religious experience from the intertwining perspectives of neuroscience and developmental psychology. Faber here argues that belief in God, the powerful sensation of his presence, and the heartfelt assent to the reality of the supernatural are all produced by the mind/brain's inherent tendency to discover in religious narrative a striking, memorial echo of its own biological development. Although Faber maintains that we are not "wired" specifically for God (as many contend), our brain is so constructed as to make us profoundly susceptible to religious myths. These myths encourage us to map our early, internalized experience onto a variety of supernatural narratives with the figure of the Parent-God and his angelic assistants at the center.
A key point of Faber's analysis is the connection between the onset of infantile amnesia during childhood's later years and the evocative power of religious mythology. Although we cannot explicitly recall our earliest interactions with our parents or other caregivers, religious narratives can and do jog these implicit emotional memories in an uncanny way, which prompts us to accede to religion's central tenet, namely, that we are in the care of an omnipotent parental provider who watches over us and ministers to our needs. This is the unconscious emotional powerhouse, says Faber, which ultimately engenders and sustains religious belief. In the final analysis, religious experience attempts to recapture, and to reinstate in an idealized form, the symbiotic union of the early parent-child relation.
In an age of religious turmoil and international terrorism linked to religious passion, it is more important than ever to gain a rational, scientific understanding of religious motivations. Faber's insights help us realize why religious conflicts often spill over into violence. When a believer's religion is challenged, the challenge resounds at deep, unconscious levels where primal parental attachment resides.
Sure to be controversial, this pioneering, highly original work takes the reader to the neurological-psychological bedrock of religious experience.
Reviews
"M.D. Faber continues his career of psychology-of-religion work by providing a comprehensive and naturalistic explanation of religious experience." – Science & Theology News
"An intriguing, entertaining, hard-hitting read, a thought-provoking book that will make a fine companion to Freud's work on religion and to the literature on attachment theory…. Essential." – Choice
"Utterly indispensable reading for anyone seriously interested in the psychological underpinnings of religious belief; a timely and lucid integration and synthesis of contemporary cognitive neuroscience and psychodynamic developmental psychology – eloquently written and generously seasoned with lovely literary allusions. " – Sheldon Solomon, Professor of Psychology, Skidmore College, Coauthor of In the Wake of 9/11: The Psychology of Terror
"M.D. Faber is a naturalist of religion in the great tradition of Sigmund Freud and Weston LaBarre. He is our Darwin at the Galapagos of faith and rite. He proposes a distinctively human biology of religion. … In mapping the developmental foundation of religious experience, he both explains and demystifies religion. He brings the light of reason to a realm enshrouded in mystique and mystification. In this time of the triumph of the irrational, Faber's voice is urgently needed." – Dr. Howard Stein, University of Oklahoma
Contents
Preface
1. Introduction
Theoretical Alternatives
2. The Basic Biological Situation
Affective Attachment

Internalization and Imprinting

Implicit Memory, State Dependent Memory, and Priming

Ties to the Religious World, Including Angels

Religious Narrative and the Separation Stage
3. Credulity and the Skeptical Tradition
Revisions, Including a Pivotal Change of Course

Enter (Briefly) William James