---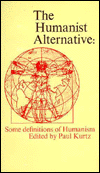 Amazon
The contributors to this volume were asked the following questions:
The term "Humanism" is widely used, as are the terms "ethical" Humanism, "scientific" Humanism and "religious" Humanism. What is Humanism? Can you define it?
If there is in your judgment no clear definition in the literature, you may wish to propose one. You may also wish to focus on the relationship of Humanism to atheism, science, its ethical position, or some other theme.
Those who have contributed represent a wide spectrum of Humanist opinion in the world today. They are primarily philosophers, psychologists, social scientists, ethical and religious leaders. Among the themes they discuss are historic roots of Humanism, the general problem of definition, the relationship of Humanism to ethics and morality, Humanism and religion, Humanism and atheism and Humanism on the world scene. Most of the varieties of Humanism are represented, including naturalistic Humanism, liberal Humanism, atheistic Humanism, humanistic psychology, behaviourism, Marxism, and Zen.
If there is a common thread running throughout this volume, it is the conviction that Humanism is committed to the method of reason as the chief means of solving problems and the belief that mankind can survive and humans can enjoy a significant life. This conviction and this belief, however, can be realized only if men continue to have confidence in their own natural powers and abilities and the courage to use them.