---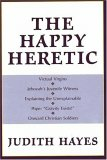 Amazon
When Judith Hayes started writing her monthly Internet column, The Happy Heretic, in 1996, she never imagined how great the response would be. Within the first year, she received e-mail messages from readers in forty countries, many expressing in some way her favorite reader reaction: "You know I never really thought about that before!"
It's no wonder her readers are energized, encouraged, and passionate. Hayes has a unique ability to raise serious points while making us laugh as she throws buckets of cold water on the irrational beliefs and maddening inconsistencies that often characterize popular religion. She's at her best when recounting modern-day "miracles" such as the apparition of the Virgin Mary's face in a waffle at a Fresno diner; when she describes how she started rubbing a stuffed penguin when faced with situations that would once have prompted her to pray, and got the same results; or when she condenses the entire Bible into a single chapter.
But she also shares poignant, personal, and often heartrending stories about devout friends and acquaintances who struggle with irrational beliefs in the face of perplexing dilemmas and personal tragedies: a single mother torn between her young son and her God; the death of a child in spite of a community's prayers.
In her quest to secularize the world, Hayes devotes a chapter to explaining in clear, concise, layperson's terms exactly what humanism is and what it stands for, in particular extolling its tolerance. Finally she offers answers to common questions about God, faith, the Bible, and religion, all the while inviting readers to ponder, deliberate, and reason things through, and in the end find their own answers.
Funny, provocative, and touching, The Happy Heretic offers a fresh new perspective on the age-old questions about religioous beliefs and institutions; and Judith Hayes is the perfect popular spokesperson for clear thinking and reason.