---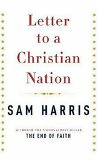 Amazon
Book Description
In response to The End of Faith, Sam Harris received thousands of letters from Christians excoriating him for not believing in God. Letter to A Christian Nation is his reply. Using rational argument, Harris offers a measured refutation of the beliefs that form the core of fundamentalist Christianity. In the course of his argument, he addresses current topics ranging from intelligent design and stem-cell research to the connections between religion and violence. In Letter to a Christian Nation, Sam Harris boldly challenges the influence that faith has on public life in our nation. He writes:
Thousands of people have written to tell me that I am wrong not to believe in God. The most hostile of these communications have come from Christians. This is ironic, as Christians generally imagine that no faith imparts the virtues of love and forgiveness more effectively than their own. The truth is that many who claim to be transformed by Christ's love are deeply, even murderously, intolerant of criticism. While we may want to ascribe this to human nature, it is clear that such hatred draws considerable support from the Bible. How do I know this? The most disturbed of my correspondents always cite chapter and verse.

Forty-four percent of the American population is convinced that Jesus will return to judge the living and the dead sometime in the next fifty years. According to the most common interpretation of biblical prophecy, Jesus will return only after things have gone horribly awry here on earth. It is, therefore, not an exaggeration to say that if the city of New York were suddenly replaced by a ball of fire, some significant percentage of the American population would see a silver lining in the subsequent mushroom cloud, as it would suggest to them that the best thing that is ever going to happen was about to happen–the return of Christ. It should be blindingly obvious that beliefs of this sort will do little to help us create a durable future for ourselves–socially, economically, environmentally, or geopolitically. Imagine the consequences if any significant component of the U.S. government actually believed that the world was about to end and that its ending would be glorious. The fact that nearly half of the American population apparently believes this, purely on the basis of religious dogma, should be considered a moral and intellectual emergency.The book you are about to read is my response to this emergency…
Early Praise
It's a shame that not everyone in this country will read Sam Harris' marvelous little book. They won't, but they should.
— Leonard Susskind, Felix Bloch Professor in theoretical physics at Stanford University, author of The Cosmic Landscape
Sam Harris's elegant little book is most refreshing and a wonderful source of ammunition for those who, like me, hold to no religious doctrine. Yet I have some sympathy also with those who might be worried by his uncompromising stance. Read it and form your own view, but do not ignore its message.
— Sir Roger Penrose, emeritus professor of mathematics at Oxford, author of The Road to Reality.
Reading Harris' Letter to a Christian Nation was like sitting ring side, cheering the champion, yelling "Yes!" at every jab. For those of us who feel depressed by this country's ever increasing unification of church and state, and the ever decreasing support for the sciences that deliver knowledge and reduce ignorance, this little book is a welcome hit of adrenalin.
— Marc Hauser, Professor of Psychology, Biology. and Biological Anthropology at Harvard University, author of Moral Minds
Sam Harris fearlessly describes a moral and intellectual emergency precipitated by religious fantasies. It is a relief that someone has spoken so frankly, with such passion yet such rationality. Now when the subject arises, as it inevitably does, I can simply say: Read Sam Harris' Letter to a Christian Nation.
— Janna Levin, professor of astronomy and physics at Columbia University, author of How the Universe Got Its Spots and A Madman Dreams of Turing Machines
Read this book and decide your stance for the future.
— Michael S. Gazzaniga, Director of the Sage Center for the Study of Mind, University of California, Santa Barbara, author of The Ethical Brain