---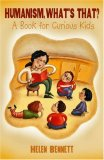 Amazon
Book Description
Mrs. Green is teaching her daily science class one day when suddenly she receives terrible news: A popular student named Amanda has been struck by a car on her way to class and is now hospitalized with serious injuries. "Let's all pray for Amanda," says one earnest classmate. "Surely God will make her well if He hears our prayers."
Mrs. Green is confronted with the dilemma that every public school teacher must be ready to deal with. While the church-state separation laws won't allow school prayer, Mrs. Green wants to do something to help her students cope with a life-threatening situation that has raised deep questions.
Thus begins a conversation between teacher and students that forms the basis of this thoughtful work. Starting with the historic concept of separation of church and state, the curious youngsters' insistent questions lead to a consideration of philosophic issues: Why shouldn't they pray for Amanda in class? Why do some people believe in God while others don't? Is there life after death? What gives life meaning?
In the course of what becomes a parent-approved after-school discussion, Mrs. Green presents a humanistic point of view, making the following points:
Humanists look at life as a natural process, so they don't believe in the supernatural.
They rely on science to explain the meaning of life, not on religion, though they support each person's freedom to choose to believe or not to believe.
Rather than speculating about what comes after death, humanists prefer to focus on life on earth.
Humanists generally espouse the values of universal education, freedom of thought and free expression, open-minded pursuit of the truth, tolerance of others' differences, mutual respect, and preservation of the environment.
Complete with discussion questions, suggestions for activities, and a bibliography, this innovative approach to presenting humanism to young adults will be welcome by parents and teachers looking to expose their children or students to a secular philosophic perspective.
This is a fine book for teachers and/or any nontheist trying to answer children's questions about nonbelief.
Selected Comments
"Covers a lot of ground in a manner and style that should help children understand humanism … Humanist and atheist parents would certainly benefit from having it because it presents basic humanist principles at a level younger children can comprehend – and it may even help them explain themselves to their friends." – About.com
"This small volume holds out the hope and openness of Humanism in a form that can help young people confront Fundamentalist approaches to religion with confidence. And confront them they do, just as described in Mrs. Green's classroom and in schoolyards across this nation. Humanism, What's That? embodies the values which are central to my faith and is a wonderful addition to our ministry of liberal religious education."- Rev. William G. Sinkford, President, Unitarian Universalist Association