---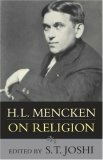 Amazon
No one ever argued more forcefully or with such acerbic wit against the foolish aspects of religion as H. L. Mencken (1880-1956). As a journalist, he gained national prominence through his newspaper columns describing the now-famous 1925 Scopes trial, which pitted Fundamentalists against a public school teacher who dared to teach evolution. But both before and after the Scopes trial, Mencken spent much of his career as a columnist and book reviewer lampooning the ignorant piety of gullible Americans.
S. T. Joshi has brought together and organized many of Mencken's writings on religion in this provocative and entertaining collection. The articles here presented demonstrate that Mencken canvassed the entire range of religious phenomena of his time, from evangelists Billy Sunday and Aim'e Semple McPherson, to Christian Scientists, and theosophists and spiritualists. On a more serious note are his discussions of the philosophy of Friedrich Nietzsche and the scientific worldview as a rival to religious belief. Also included are poignant autobiographical accounts of Mencken's own upbringing and his core beliefs on religion, ethics, and politics.
If anything was sacred to Mencken, it was the right to speak one's mind freely, and many of his attacks are directed against those true believers who he felt tried to foist their beliefs on others to stifle independent thinking. For everyone who values freethought and sharp intelligence, this collection of articles by America's premier iconoclast is a must.