---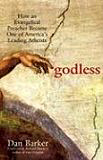 Amazon
Book Description
After 19 years as an evangelical preacher, missionary, and Christian songwriter, Dan Barker "threw out the bathwater and discovered there is no baby there."
Barker, who is now co-president of the Freedom From Religion Foundation (America's largest organization of atheists and agnostics), describes the intellectual and psychological path he followed in moving from fundamentalism to freethought. The four sections in Godless–Rejecting God, Why I Am An Atheist, What's Wrong With Christianity, and Life is Good!–include chapters on bible problems, the historicity of Jesus, morality, the Kalam Cosmological argument, the unbelievable resurrection, and much more. Barker relates the positive benefits from trusting in reason and human kindness instead of living in fear of false judgment and moral condemnation.
Godless expands the story told in Dan's 1992 book, Losing Faith in Faith: From Preacher to Atheist–the two books overlap about 20%–but a lot has happened in 16 years, and Dan updates the story with four new chapters, including "The New Call" (lessons from the debate circuit), "Adventures in Atheism," and "We Go To Washington" (FFRF's Supreme Court lawsuit, in which Dan was a plaintiff).
Contents
Foreword by Richard Dawkins
Introduction
Part 1 – Rejecting God
1 The Call
2 The Fall
3 The Fallout
4 The New Call
Part 2 – Why I Am An Atheist
5 Why I Am an Atheist
6 Refuting God
7 Omni-Aqueous
8 Cosmological Kalamity
9 Dear Theologian
Part 3 – What's Wrong With Christianity
10 The Bible and Morality
11 Murder, He Wrote
12 For Goodness Sake
13 Biblical Contradictions
14 Understanding Discrepancy
15 Did Jesus Exist?
16 Did Jesus Rise From the Dead?
Part 4 – Life is Good!
17 We Go to Washington
18 Adventures in Atheism
19 Life and Death Matters
Bibliography
Index
Comment
"Valuable in the human story are the reflections of intelligent and ethical people who listen to the voice of reason and who allow it to vanquish bigotry and superstition. This book is a classic example." – Christopher Hitchens, author of God Is Not Great: How Religion Poisons Everything
"The most eloquent witness of internal delusion that I know–a triumphantly smiling refugee from the zany, surreal world of American fundamentalist Protestantism–is Dan Barker." – Richard Dawkins,
author of The God Delusion
"In Godless, Barker recounts his journey from evangelical preacher to atheist activist, and along the way explains precisely why it is not only okay to be an atheist, it is something in which to be proud." – Michael Shermer, publisher of Skeptic Magazine
"This book profoundly affected me. It's funny, and poignant,and most importantly, true! You must read this book." – Julia Sweeney
comedian, actress, Saturday Night Live alum, author of Letting God of God
"Dan Barker's esteemed reputation is richly deserved. I recommend getting three copies. You will need one as a source of evidence to which you will frequently refer. There sill be miles and miles of underlining as you mark the pages of special interest to you. You will need your second to lend to others. You will be enthusiastic about this book, and you will want to share its wisdom with family and friends. Others will likewise want to share it, and the book will never be returned to you. Finally, you will want a third copy to be in pristine condition on your bookshelf, since Dan Barker has created a volume which will only grow in its historical significance." – David Mills,
author of Atheist Universe: The Thinking Person's Answer to Christian Fundamentalism
"Godless is a fascinating memoir and a handbook for debunking theism. But most of all, it is a moving testimonial to one man's emotional and intellectual rigor in acclaiming critical thinking." – Robert Sapolsky, author of Why Zebras Don't Get Ulcers
"Godless was a revelation to me. I don't think anyone can match the (devastating!) clarity, intensity, and honesty which Dan Barker brings to the journey–faith to reason, childhood to growing up, fantasy to reality, intoxication to sobriety." – Oliver Sacks, author of Musicophilia