---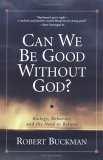 Amazon
Recent neurological studies have shown that there are regions of the brain that seem predisposed to create beliefs. Are we hardwired to believe? And if so, why do beliefs sometimes inspire major contributions to society, while on other occasions they precipitate horrendous acts of destruction?
In this provocative and stimulating study of the connection between belief and behavior, Dr. Robert Buckman begins by reviewing the history of religious belief, showing the many shared themes among religions of diverse cultures. He then explains little-publicized data from neuroscience on the limbic system and the right-hand temporal lobe of the brain, which when stimulated consistently produces deep-seated spiritual feelings. Recent experiments reveal that this portion of the brain may underlie the development of many common religious beliefs, and perhaps the more aggressive and destructive behaviors associated with some of them. Buckman also summarizes evidence regarding pheromones and their effect on the limbic system, as a possible mechanism for certain types of crowd behavior, whether in a religious or secular context.
Finally, considering the long historical relationship between religion and ethics, Buckman asks whether we can develop better, nontheistic belief systems that avoid the destructive aspects of traditional religious beliefs. He then describes ways in which we can become aware of, and perhaps, correct our "limbic urges" when they threaten to lead to destructive behavior. This ambitious work, covering important areas of social anthropology, comparative religion, neurology, and psychology, provides many insights into the mechanisms of belief.