---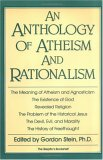 Amazon
This anthology fills a conspicuous gap in the discussion of religion and theism. The issues that theology addresses, the meaning of life, the existence of God, the truth of the Bible, the possibility of life after death, are so important to people that they ought to examine both sides of these fundamental questions.
The atheist and rationalist writings collected here are virtually impossible to obtain anywhere else, even in large university library collections. This material chronicles the contributions of many distinguished thinkers who have carefully investigated key issues in religion and philosophy, but have arrived at remarkably different conclusions from those of the clergy or media. We should not neglect this long and rich history or ignore the insights rooted in the freethough tradition.
An Anthology of Atheism and Rationalism, a thorough introduction to the writings of the world's most famous freethinkers, will lead intellectually curious and intelligent people of all religious persuasions to an increased appreciation of the scope and limitations of their own opinions and attitudes on these important issues, including the existence of God, the definition of atheism and rationalism, the possibility of Divine Revelation, the existence of the Devil, and the real history/contribution of atheism to intellectual thought.