---
Dan Barker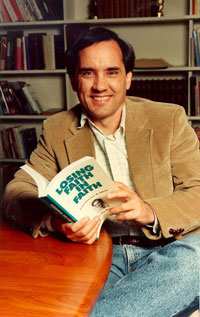 [ Author Bio ]
[ Purchase Books by this Author ]
Book
Losing Faith in Faith (1992)
The following section links to the chapters of Dan Barker's 1992 book that are available online. For Barker's other books, click the link above.
Table of Contents (Off Site)

Chapter 3. I Just Lost Faith in Faith (Off Site)

Chapter 17. Refuting God (Off Site)

Brief atheistic responses to theistic arguments.

Chapter 19. Dear Theologian (Off Site)

A chapter from Dan Barker's book, Losing Faith in Faith.

Chapter 23. Confused? Bible Contradictions (Off Site)

An overview of some of the contradictions of the Bible.

Chapter 24. Leave No Stone Unturned (Off Site)

A resurrection challenge.

Chapter 35. Mere Assertions (Off Site)

A critique of C.S. Lewis's Mere Christianity.
Essays
Cosmological Kalamity (2000)
Three possible flaws in the Kalam cosmological argument are discussed:
1) If God is the only object accommodated by the set of things that do not begin to exist, then the Kalam argument has the effect (if not the intention) of begging the question.
2) The logic regarding the impossibility of an actual infinity disproves the existence of an actually infinite God.
3) Since the universe is not a member of itself, the Kalam argument is illogically comparing apples and oranges.
Did Jesus Really Rise From The Dead? (2003) (Off Site)
Dan Barker defends the legend hypothesis as the best explanation of the historical evidence.
Did Paul's Men Hear A Voice? (1994)
Dan Barker discusses a contradiction between Luke and Paul's account of Paul's conversion to Christianity.
Evangelistic Atheism: Leading Believers Astray (1993) (Off Site)
Barker describes how to conduct atheistic evangelism.
For Goodness Sake (n.d.)
The Freewill Argument For the Nonexistence of God (1997) (Off Site)
Barker articulates and defends an incompatible-properties argument for the non-existence of God. According to Barker, God's free will is incompatible with his omniscience.
What Is A Freethinker? (1993) (Off Site)
Barker explains what it means to be a freethinker, and answers several frequently asked questions about freethinkers.
Why Jesus? (1993) (Off Site)
Does Jesus merit the widespread adoration he has received? Barker reviews what he said and did.
Debates
The Barker-Horner Debate: Did Jesus Really Rise From the Dead? (1996) [ Index ]
A transcript of the 1996 debate between Dan Barker and Michael Horner on whether Jesus rose from the dead.
From the Bookstore
---
Dan Barker is public relations director of the
Freedom From Religion Foundation
. A former minister and evangelist, Barker became a freethinker in 1983. His books,
Just Pretend: A Freethought Book for Children
and
Losing Faith in Faith: From Preacher To Atheist
are published by the Foundation. A graduate of Azusa Pacific University with a degree in Religion, Dan now puts his knowledge of Christianity to effective freethought use. A professional pianist and composer, Dan is featured in the Foundation's musical cassettes, "My Thoughts Are Free" and "Reason's Greetings," and performs freethought concerts.
---
Published on the Secular Web
---