---
Gerd Lüdemann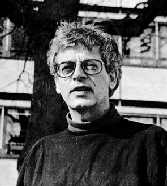 [ Author Bio (Off Site)]
[ Bibliography of all publications (Off Site)]
[ Purchase Books by this Author ]
A Criticism of My Church (1996) (Off Site)
This chapter is above all a critical contribution to the discussion which has begun in Germany about the legitimacy of radical historical criticism in the framework of academic theology and the church. But it may also be of interest to English readers, since in the Anglo-Saxon world, too, the question of the relationship between history, faith, church and theology has still not been clarified.
Preface to the U.S. edition of The Great Deception (1999) (Off Site)
A summary of the events that led to Lüdemann's ongoing dispute with the Confederation of Protestant Churches in Lower Saxony, the Education Minister of Lower Saxony and the University of Göttingen.
Ten Golden Words (1995)
This essay was originally published as the Epilogue to his book Heretics: The Other Side of Early Christianity. It states some of the main ideas that "always underlie the explanations and draw conclusions for the present from the historical reconstruction."
See also:
Gerd Lüdemann's personal website [ Index ]
Second Letter on Behalf of Prof. Dr. Gerd Luedemann (2000) by Robert W. Funk
Do the theological faculties of Germany's state universities serve only the church, or do they also serve the broader needs of a pluralistic culture? This is the central question in the debate over the controversy surrounding biblical scholar and George-August University faculty member Gerd Luedemann who, after announcing his nonbelief publicly last year, was then denied his academic rights in his teaching position. This second letter, provided to us by an interested third party, responds to the Dean of George-August and defends Luedemann against the charge that he is unfit to prepare students for ordination in the Lutheran Church.
Open Letter on Behalf of Gerd Luedemann (2000) by Fellows of the Jesus Seminar
Pressured by the church in the wake of Professor Luedemann's deconversion, the University and the Theological Faculty have effectively barred him from offering courses or advising students. Jesus Seminar Chair Robert W. Funk and other signatories wrote this open letter on Luedemann's behalf.
Although Lüdemann has renounced his Christian faith, he has been giving a series of lectures at First Presybterian Church in Forest Hills, Tennesse.
Gerd Lüdemann no longer believes in Christianity, and he suspects a lot of Christians secretly agree with him.
---
(1946 - 2021)
Gerd Lüdemann was Professor of the History and Literature of Early Christianity at the University of Göttingen, Germany. Professor Lüdemann's published conclusions about Christianity aroused great controversy in his native Germany, where the Confederation of Protestant Churches in Lower Saxony demanded his immediate dismissal from the theological faculty of his university. Despite this threat to his academic freedom, he retained his post at the university, although the chair he held was renamed to disassociate him from the training program of German pastors.
See also:
Gerd Lüdeman's author page in the Secular Web Library
Gerd Lüdeman's homepage: http://www.gwdg.de/~gluedem/ger/00con.htm (German)