---
---
Order books by and about Robert Ingersoll now.
Tribute Barrett
Robert Green Ingersoll


                 A TRIBUTE TO LAWRENCE BARRETT.

       At the Broadway Theater, New York, March 22, 1891.

     MY heart tells me that on the threshold of my address it will
be appropriate for me to say a few words about the great actor who
has just fallen into that sleep that we call death. Lawrence
Barrett was my friend, and I was his. He was an interpreter of
Shakespeare, to whose creations he gave flesh and blood. He began
at the foundation of his profession, and rose until he stood next
to his friend -- next to one who is regarded as the greatest
tragedian of our time -- next to Edwin Booth.

                         Bank of Wisdom
                  Box 926, Louisville, KY 40201
                                4

                 A TRIBUTE TO LAWRENCE BARRETT.

     The life of Lawrence Barrett was a success, because he honored
himself and added glory to the stage.

     He did not seek for gain by pandering to the thoughtless,
ignorant or base. He gave the drama in its highest and most serious
form. He shunned the questionable, the vulgar and unpure, and gave
the intellectual, the pathetic, the manly and the tragic. He did
not stoop to conquer -- he soared. He was fitted for the stage. He
had a thoughtful face, a vibrant voice and the pose of chivalry.
and besides he had patience, industry, courage and the genius of
success. He was a graceful and striking Bassanio, a thoughtful
Hamlet, an intense Othello, a marvelous Harebell, and the best
Cassius of his century.

     In the drama of human life, all are actors, and no one knows
his part. In this great play the scenes are shifted by unknown
forces, and the commencement, plot and end are still unknown -- are
still unguessed. One by one the players leave the stage, and others
take their places. There is no pause -- the play goes on. No
prompter's voice is heard, and no one has the slightest clue to
what the next scene is to be.

     Will this great drama have an end? Will the curtain fall at
last? Will it rise again upon some other stage? Reason says
perhaps, and Hope still whispers yes. Sadly I bid my friend
farewell, I admired the actor. and I loved the man.


The Bank of Wisdom is run by Emmett Fields out of his home in Kentucky. He painstakingly scanned in these works and put them on disks for others to have available. Mr. Fields makes these disks available for only the cost of the media.
Files made available from the Bank of Wisdom may be freely reproduced and given away, but may not be sold.
Reproducible Electronic Publishing can defeat censorship.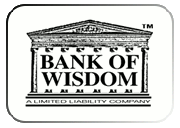 The Bank of Wisdom is a collection of the most thoughtful, scholarly and factual books. These computer books are reprints of suppressed books and will cover American and world history; the Biographies and writings of famous persons, and especially of our nations Founding Fathers. They will include philosophy and religion. all these subjects, and more, will be made available to the public in electronic form, easily copied and distributed, so that America can again become what its Founders intended --
The Free Market-Place of Ideas.
The Bank of Wisdom is always looking for more of these old, hidden, suppressed and forgotten books that contain needed facts and information for today. If you have such books please contact us, we need to give them back to America.
Bank of Wisdom
Box 926
Louisville, KY 40201