---
---
Order books by and about Robert Ingersoll now.
Secularism
Robert Green Ingersoll


                           SECULARISM.

     SEVERAL people have asked me the meaning of this term.

     Secularism is the religion of humanity; it embraces the
affairs of this world; it is interested in everything that touches
the welfare of a sentient being; it advocates attention to the
particular planet in which we happen to live; it means that each
individual counts for something; it is a declaration of
intellectual independence; it means that the pew is superior to the
pulpit, that those who bear the burdens shall have the profits and
that they who fill the purse shall hold the strings. It is a
protest against theological oppression, against ecclesiastical

                         Bank of Wisdom
                  Box 926, Louisville, KY 40201
                                6

                           SECULARISM.

tyranny, against being the serf, subject or slave of any phantom,
or of the priest of any phantom. It is a protest against wasting
this life for the sake of one that we know not of. It proposes to
let the gods take care of themselves. It is another name for common
sense; that is to say, the adaptation of means to such ends as are
desired and understood.

     Secularism believes in building a home here, in this world. It
trusts to individual effort, to energy, to intelligence, to
observation and experience rather than to the unknown and the
supernatural. It desires to be happy on this side of the grave.

     Secularism means food and fireside, roof and raiment,
reasonable work and reasonable leisure, the cultivation of the
tastes, the acquisition of knowledge, the enjoyment of the arts,
and it promises for the human race comfort, independence,
intelligence, and above all liberty. It means the abolition of
sectarian feuds, of theological hatreds. It means the cultivation
of friendship and intellectual hospitality. It means the living for
ourselves and each other; for the present instead of the past, for
this world rather than for another. It means the right to express
your thought in spite of popes, priests, and gods. It means that
impudent idleness shall no longer live upon the labor of honest
men. It means the destruction of the business of those who trade in
fear. It proposes to give serenity and content to the human soul.
It will put out the fires of eternal pain. It is striving to do
away with violence and vice, with ignorance, poverty and disease.
It lives for the ever present to-day, and the ever coming to-
morrow. It does not believe in praying and receiving, but in
earning and deserving. It regards work as worship, labor as prayer,
and wisdom as the savior of mankind. It says to every human being,
Take care of yourself so that you may be able to help others; adorn
your life with the gems called good deeds; illumine your path with
the sunlight called friendship and love.

     Secularism is a religion, a religion that is understood. It
has no mysteries, no mumblings, no priests, no ceremonies, no
falsehoods, no miracles, and no persecutions. It considers the
lilies of the field, and takes thought for the morrow. It says to
the whole world, Work that you may eat, drink, and be clothed; work
that you may enjoy; work that you may not want; work that you may
give and never need.

                         The Independent Pulpit, Waco, Texas, 1887.


The Bank of Wisdom is run by Emmett Fields out of his home in Kentucky. He painstakingly scanned in these works and put them on disks for others to have available. Mr. Fields makes these disks available for only the cost of the media.
Files made available from the Bank of Wisdom may be freely reproduced and given away, but may not be sold.
Reproducible Electronic Publishing can defeat censorship.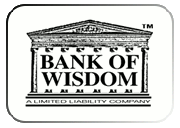 The Bank of Wisdom is a collection of the most thoughtful, scholarly and factual books. These computer books are reprints of suppressed books and will cover American and world history; the Biographies and writings of famous persons, and especially of our nations Founding Fathers. They will include philosophy and religion. all these subjects, and more, will be made available to the public in electronic form, easily copied and distributed, so that America can again become what its Founders intended --
The Free Market-Place of Ideas.
The Bank of Wisdom is always looking for more of these old, hidden, suppressed and forgotten books that contain needed facts and information for today. If you have such books please contact us, we need to give them back to America.
Bank of Wisdom
Box 926
Louisville, KY 40201