---
---
Order books by and about Robert Ingersoll now.
Interviews Of Robert G. Ingersoll
Set 1:
The Bible and a Future Life
Mrs. Van Cott, The Revivalist
European Trip and Greenback Question
The Pre-millennial Conference
The Solid South and Resumption
The Sunday Laws of Pittspurgh
Political and Religious
Politics and Gen. Grant
Politics, Religion, and Thomas Paine
The Republican Victory
Ingersoll and Beecher
Political
Religion in Politics
Miracles and Immorality
Set 2:
The Political Outlook
Mr. Beecher, Moses, and the Negro
Hades, Delaware, and Freethought
A Reply to the Rev. Mr. Lansing
Beaconsfield, Lent, and Revivals
Answering the New York Ministers
Guiteau and His Crime
District Suffrage
Set 3:
Judge Harlan and the Civil Rights Bill
Politics and Theology
Morality and Immorality
Politics, Mormonism, and Mr. Beecher
Free Trade and Christianity
The Oath Question
Wendell Phillips, Fitz John Porter, and Bismarck
Set 4:
Funeral of John G. Mills and Immortality
Star Route and Politics
The Interviewer
Politics and Prohibition
The Republican Defeat in Ohio
The Civil Rights Bill
The Grant Banquet
Robson and Crane Dinner
Set 5:
Reply to the Kansas City Clergy
Swearing and Affirming
Reply to a Buffalo Critic
Blasphemy
Politics and British Columbia
Ingersoll Catechized
Essay on Christmas
---
The Bank of Wisdom is run by Emmett Fields out of his home in Kentucky. He painstakingly scanned in these works and put them on disks for others to have available. Mr. Fields makes these disks available for only the cost of the media.
Files made available from the Bank of Wisdom may be freely reproduced and given away, but may not be sold.
Reproducible Electronic Publishing can defeat censorship.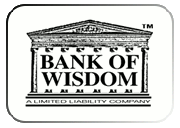 The Bank of Wisdom is a collection of the most thoughtful, scholarly and factual books. These computer books are reprints of suppressed books and will cover American and world history; the Biographies and writings of famous persons, and especially of our nations Founding Fathers. They will include philosophy and religion. all these subjects, and more, will be made available to the public in electronic form, easily copied and distributed, so that America can again become what its Founders intended --
The Free Market-Place of Ideas.
The Bank of Wisdom is always looking for more of these old, hidden, suppressed and forgotten books that contain needed facts and information for today. If you have such books please contact us, we need to give them back to America.
Bank of Wisdom
Box 926
Louisville, KY 40201