Welcome!

The Secular Web is owned and operated by Internet Infidels Inc., a 501(c)(3) nonprofit educational organization dedicated to promoting and defending a naturalistic worldview on the Internet.

As defined by Paul Draper, naturalism is "the hypothesis that the natural world is a closed system, which means that nothing that is not a part of the natural world affects it." Thus, "naturalism implies that there are no supernatural entities"—including God.
Gather around the Kiosk for thought-provoking articles, informal essays, reviews, humor, satire, fiction, opinions, and fascinating memes.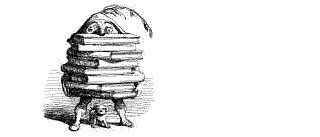 Browse the Secular Web Library, the worlds largest online collection of literature on the philosophy of religion, religions skepticism, and atheism where you will find defenses of the naturalistic worldview and critiques of religion.

Explore the Secular Web...
Library
Kiosk
Quotation of the Minute
"The argument that the literal story of Genesis can qualify as science collapses on three major grounds: the creationists' need to invoke miracles in order to compress the events of the earth's history into the biblical span of a few thousand years; their unwillingness to abandon claims clearly disproved, including the assertion that all fossils are products of Noah's flood; and their reliance upon distortion, misquote, half-quote, and citation out of context to characterize the ideas of their opponents." [Stephen Jay Gould, "The Verdict on Creationism", The Skeptical Inquirer, Winter 87/88, pg. 186]

God's Gravediggers...
Raymond D. Bradley



Religious Absurdities
Ryan Stringer