Welcome!

The Secular Web is owned and operated by Internet Infidels Inc., a 501(c)(3) nonprofit educational organization dedicated to promoting and defending a naturalistic worldview on the Internet.

As defined by Paul Draper, naturalism is "the hypothesis that the natural world is a closed system, which means that nothing that is not a part of the natural world affects it." Thus, "naturalism implies that there are no supernatural entities"—including God.
Gather around the Kiosk for thought-provoking articles, informal essays, reviews, humor, satire, fiction, opinions, and fascinating memes.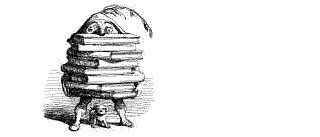 Browse the Secular Web Library, the worlds largest online collection of literature on the philosophy of religion, religions skepticism, and atheism where you will find defenses of the naturalistic worldview and critiques of religion.

Explore the Secular Web...
Library
Kiosk
Quotation of the Minute
"Agnosticism is not properly described as a 'negative' creed, nor indeed as a creed of any kind, except in so far as it expresses absolute faith in the validity of a principle, which is as much ethical as intellectual. This principle may be stated in various ways, but they all amount to this: that
it is wrong for a man to say that he is certain of the objective truth of any proposition unless he can produce evidence which logically justifies that certainity
. This is what Agnosticism asserts; and, in my opinion, it is all that is essential to Agnosticism. That which Agnostics deny, and repudiate as immoral, is the contrary doctrine, that there are propositions which men ought to believe, without logically satisfactory evidence." Thomas Henry Huxley, "Agnosticism and Christianity"
Agnosticism and Christianity and Other Essays
(1889, Buffalo, NY: Prometheus, 1992), p. 193.

God's Gravediggers...
Raymond D. Bradley



On (False) Prophets and Messiahs
Michael Moore