Welcome!

The Secular Web is owned and operated by Internet Infidels Inc., a 501(c)(3) nonprofit educational organization dedicated to promoting and defending a naturalistic worldview on the Internet.

As defined by Paul Draper, naturalism is "the hypothesis that the natural world is a closed system, which means that nothing that is not a part of the natural world affects it." Thus, "naturalism implies that there are no supernatural entities"—including God.
Gather around the Kiosk for thought-provoking articles, informal essays, reviews, humor, satire, fiction, opinions, and fascinating memes.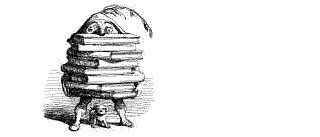 Browse the Secular Web Library, the worlds largest online collection of literature on the philosophy of religion, religions skepticism, and atheism where you will find defenses of the naturalistic worldview and critiques of religion.

Explore the Secular Web...
Library
Kiosk
Quotation of the Minute
"Not long ago I was sleeping in a cabin in the woods and was awoken in the middle of the night by the sounds of a struggle between two animals. Cries of terror and extreme agony rent the night, intermingled with the sounds of jaws snapping bones and fle sh being torn from limbs. One animal was being savagely attacked, killed and then devoured by another. "A clearer case of a horrible event in nature, a natural evil, has never been presented to me. It seemed to me self-evident that the natural law that animals must savagely kill and devour each other in order to survive was an evil natural law and that the obtaining of this law was sufficient evidence that God did not exist. If I held a certain epistemological theory about "basic beliefs", I might conclude from this experience that my intuition that there is no God co-existing with this horror was a "basic belief" and thus that I am epistemically entitled to be an atheist without needing to justify this intuition." Quentin Smith, "
An Atheological Argument from Evil Natural Laws
"



Faith - The Unreasonable Emotion
Richard Brown


The Bad Jesus
Hector Avalos



Alvin Plantinga Can't
Say That, Can He?
Richard M.Smith